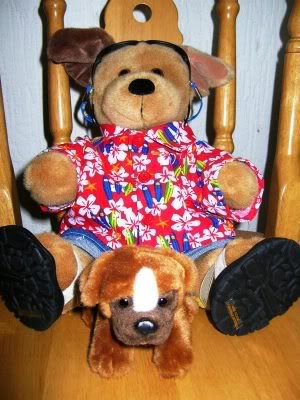 The "Build-a-Bear Workshop" is one of the cutest shops that I've ever been to - imagine being able to choose your own bear (or dog, cat, frog, cow, whatever animal takes your fancy from the range available) and dress it and accessorise it! Okay, it's meant for children, but it's so much fun that I think adults should get a look in as well.

The Workshop where I got my Siegfried is in Seattle. My sister had mentioned the existence of such a shop, and of course I simply HAD to go there, whether or not time permitted! Luckily, though, there was nobody in the shop (other than the shop assistants, duh), so there was nobody to bear witness to the childish antics that I had to go through (the assistant said it was de rigeur if i wanted my bear). Or dog. And I DID want my dog.

So I pressed the pedal on the machine that blew the stuffing into my dog, I chose a little red heart (representative of mine) to give to him, rubbed it between my hands to warm the heart, gave it a kiss, and watched it being quickly sewn up in the vitals of my dog.

My sister deeply regrets not having a video camera, but I'm grateful for the lack of one! It's childish enough as I've described... but a video of the whole thing for posterity? - no, that would have been simply too much to take! :)

Anyway, after the dog was stuffed, then came the REALLY fun part - choosing the accessories. It was lucky I was on a tight budget, or I would have blown every last cent I had on getting more and more ridiculously adorable outfits! There were firemen uniforms, desert camouflage uniforms, army uniforms, beach bum outfits, ski outfits... you name it, it was there. And these were just for the "boy" bears/animals. There were bows, ribbons, belts, dresses, frills, all sorts of pretty girly things for the "girl" toys.

Unfortunately the dog that got my heart didnt look like a girl to me. So I chose to outfit him in beach casuals... a colourful shirt, white underpants (!!!), denim shorts, sandals and - cutest of all - really cool sunglasses! My sister chose his name - Siegfried, because apparently he "looked like a Siegfried". I didnt come up with anything better than "Droopy Dog" - I know, an awful awful name and I'm glad I didnt burden him with it!

Once I'd chosen the clothes, it was time to complete the rest of the "transaction". I had to put in my name, age, address and date in a computer (prompted by embarrassingly loud and clear instructions), and eventually out came a Birth Certificate for Siegfried, complete with date of "birth" for him. The saving grace is that MY age is nowhere on the certificate, although it has my name as "parent"!

Oh, and the little puppy with Siegfried - completely irresistible, so I had to get him as well. He's a baby Boxer. I know a grown-up Boxer here who's called Draco, so this little guy became... well, L'il Draco, of course.

Hey, I never said I was imaginative.