...which, at the moment, is only a memory. The last day or two have been cold, cloudy, windy, threatening to rain - and did I mention cold? This country (or maybe it's just Shrewsbury) has such weird weather... two days back it was so sunny that everyboy went around in shorts and strappy t-shirts or no shirts at all (the guys - in case anybody thinks I live in a nudist camp). Today I feel like bundling myself up in warm fleece. Today I defy anybody to wear minimal clothing merely because it's technically supposed to be "summer"!

And the spur-of-the-moment picnic that Pete decided on, a few days ago, seems like a dream brought on by too much sun. I've had this romantic notion of sitting by the riverbank in the sun and reading - but I never really got around to it because it's been rather too windy to sit around without getting very cold. But the perfect evening happened - warm, sunny without being horribly hot, still and calm. So Pete came tearing home from work, looking mysterious about his bulging rucksack and not answering any questions about where we were going. And off we went on our cycles.

A very pleasant surprise it was, too, when I discovered that we were going to a meadow that I had only seen from the car - it always looked green and serene by the riverside. One of those places that is just that bit too far to walk to, but perfect on a cycle. The Severn river meanders about Shrewsbury and there are some smaller streams as well, so there is no lack of nice picnic spots. It was a lot like my dream picnic. Except that in my dream there was food to be had - and in Pete's version there was only wine. Three bottles of strawberry wine. And no food.

It was still really lovely there in the sun, lying back on the grass or watching the ducks go by. Going back home was a bit of a giggle, as the wine was even headier in the sun and got to me quicker than it normally does. (Lack of food was the other factor.) I'm not the steadiest of cyclists at the best of times, but this time the traffic whizzing past didnt bother me a bit because all was very right with my wobbly little world.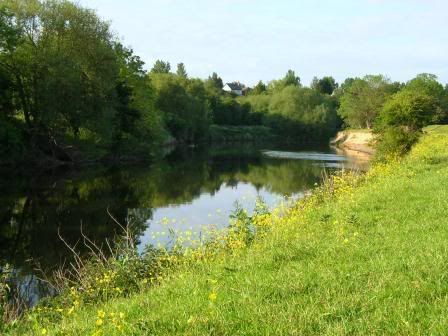 Picnic site



Reflection on water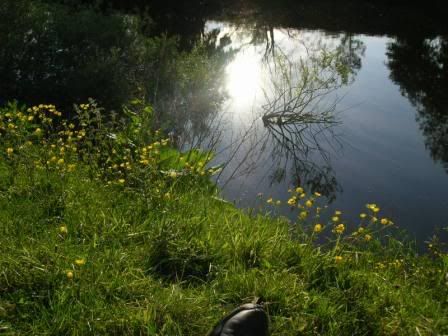 Oops, my foot got in the way



Bikes lying in the sun too. The purple on on the right is mine.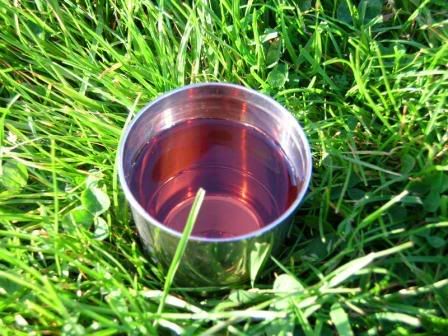 My tumbler of wine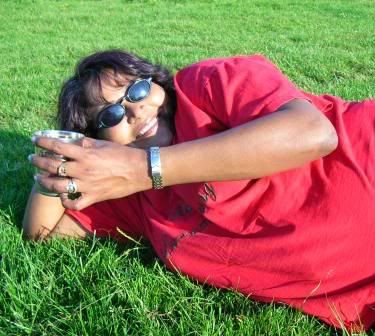 And me.